Some days ago I found this book in a very special library. It was love at first sight. I decided it is going to be my best friend for the next weeks.
"Once upon a time, there was a prostitute called Maria.
Wait a minute. 'Once upon a time' is how all the best children's stories begin and 'prostitute' is a word for adults. How can I start a book with this apparent contradiction? But since, at every moment of our lives, we all have one foot in a fairy tale and the other in the abyss, let's keep that beginning."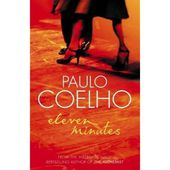 Eleven Minutes book. Read 6,109 reviews from the world's largest community for readers. Eleven Minutes is the story of Maria, a young girl from a Brazili...
Taken from "Goodreads": Eleven Minutes is the story of Maria, a young girl from a Brazilian village, whose first innocent brushes with love leave her heartbroken. At a tender age, she becomes convinced that she will never find true love, instead believing that "love is a terrible thing that will make you suffer. . . ." A chance meeting in Rio takes her to Geneva, where she dreams of finding fame and fortune. Maria's despairing view of love is put to the test when she meets a handsome young painter. In this odyssey of self-discovery, Maria has to choose between pursuing a path of darkness—sexual pleasure for its own sake—or risking everything to find her own "inner light" and the possibility of sacred sex, sex in the context of love.
Per essere informato degli ultimi articoli, iscriviti: